Yeah, hated it SO much!!! It has tricked me to run and install this program coz' of all those bogus threats and suddenly our lappy was blocked!!! It was my fault
*pandai2kan
*, but I got panicked... I couldn't surf the web for a few days. Every time we wanted to connect to Firefox, the IE safe mode came out and it wouldn't allow us to connect to any website!!! There were countless of pop-ups that prompted us to remove the threats and so-called viruses it has detected. It was so irritating and frustrating. When we clicked the 'remove all' or 'fix' buttons, it brought us to the page where we were required to activate and purchase the license and guess what, the price was costly. What a total scam!!!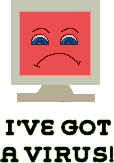 So, we tried to fix it ourselves by going into each files and folders... We were not computer experts until I almost gave up. We have thought of sending the lappy to the computer shop, but I got an idea and searched for 'how to remove this damaging AV8' in the internet from the office. I printed out the manual instructions and that night tried to follow the steps, but didn't manage to remove it. Then, finally on last Thursday (if I'm not mistaken hehe...) after the battle with this stupid fraud anti virus for 3 days, we've succeeded!!! ;-PPP Now, I'm still looking for a recommended anti-malware for full protection to block this annoying program from recreating the files.
So, friends, if suddenly you receive a scan report about virus infection from AV8, just IGNORE it. It will display FAKE warnings and if you run the apps, it will hijack your web browser and disable all the internet connections. Just in case you need to save the steps, please see below. I copied it from somewhere, but didn't have the URL coz at that time I haven't thought of jotting it down... it has left out some steps where both hubby and I figured them out, but still am thankful for it. :-)
1) Locate and delete AV8 registry entries:-
*C:\WINDOWS, look for regedit*
HKEY_CURRENT_USER\Software\A88...

*each file has a different code*


HKEY_CURRENT_USER\Software\WinFD

HKEY_LOCAL_MACHINE\SOFTWARE\Microsoft\Windows NT\Current Version\Image File Execution Options\explorer.exe

*if you are using a few other browsers such as firefox.exe or chrome, delete them as well*


HKEY_CURRENT_USER\Software\Microsoft\Windows\Current Version\Run "AV8"

HKEY_LOCAL_MACHINE\SOFTWARE\Windows\Current Version\Internet Settings\5.0\User Agent\Post Platform "WinNT-A8IXXXXXXXX"

*the date when it was installed i.e. 24.01.2011*


HKEY_LOCAL_MACHINE\SOFTWARE\Microsoft\Windows NT\Current Version\Image File Execution Options\explorer.exe "Debugger" = "C:\Program Files\AV8\av8.exe –d exe

*(safemode) again, if you are using a few other browsers such as firefox.exe or chrome, delete them as well*
2) Detect and delete other AV8 files:-
C:\Documents and Settings\All Users\Start Menu\AV8\
C:\Documents and Settings\All Users\Start Menu\AV8\Antivirus8.Ink
C:\Documents and Settings\All Users\Start Menu\AV8\Uninstall.Ink
C:\Program Files\AV8\
C:\Program Files\AV8\av8.exe
Well, that's about it. I hope everyone is well... Keep safe and have a pleasant Sunday! :-)