A week has gone by just like that and I was unable to update my blog due to some problems with the internet connection, and since I was supposed to list down my weekly accomplishment, I guess I have to skip that part and will only do it when there is an improvement or new areas I wish to do better.

Anyway, just a couple of weeks ago, I was engaged in an online discussion about what the customers would do if they receive excess money from the cashiers. Would they return the money, keep them as if it's not their fault or what... So, there I was trying to be honest where I said that in normal circumstances, I would definitely return the money to the cashiers if I am still there and notice about it.

However, it ever happened before when hubby and I were already inside the car and headed to somewhere/home, that we've only realized that the cashier has wrongly returned the balance to us. I didn't mention that it was just a small amount or some coins, but I did say that I was a hotel receptionist/cashier once and I knew how it felt when there was a shortage. So, I've also said that things like this might teach the cashier to be very careful next time.

The person who has started the discussion agreed with me about 'teaching the cashier', but then somebody got offended and responded with some hurtful remarks. Then, when the poster of the discussion apologized about it, this person said she wasn't offended with the poster, but me! So biased, right?! Both of us, me and the poster agreed on the same thing, but I was the only one being judged with those very few sentences as if I was a thief! It was quite frustrating when some people just jumped to conclusions. *sigh*

She said that if karma is real, I would be scammed and lost my money... It appears that she's a cashier herself because she claimed that she would run after the customers to return their money if they have given her more than it is supposed to be. That's very kind of her, but don't you think it makes her a bad person as well when saying like that?! Hoping for someone to get scammed just because it's the cashier's careless mistake?! So, I responded that karma is real and it happens every day in our lives. Before this, we have lost some money, but then we have also received some money.

I was really upset, but still I just apologized and explained further. I have had shortage in my cash float when I was a cashier before, but at the end of the day, it's not the hotel guests' fault, but mine alone. So, what if she's the cashier and instead of giving back extra money to the customer, she actually forgets to charge one of the items? Whose mistake is that?? So, my point is, just because it's in monetary form, it's easy for some people to misjudge other people. I wonder if she would be quiet or pay the management for the item that has not being charged. Ugh! I hope she gets what I mean...

Well, forget about this woman for a while. I recall something funny while I am writing this post. There was once when I was riding on a public bus from school, the bus conductor didn't return me the balance of my money. The bus fare was 80 cents, so, I paid RM1, but he didn't give me back the 20 cents. There were so many public buses in the city, but on the following day, I was lucky because I was on the same bus. Then, when it was my turn to pay the ticket, I only gave him 60 cents because he still 'owed' me 20 cents he he he... So, he slowly collected the coins from me and didnt even say a word about it.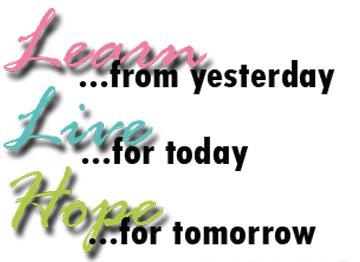 ~A person who never fails is a person who will never learn...~